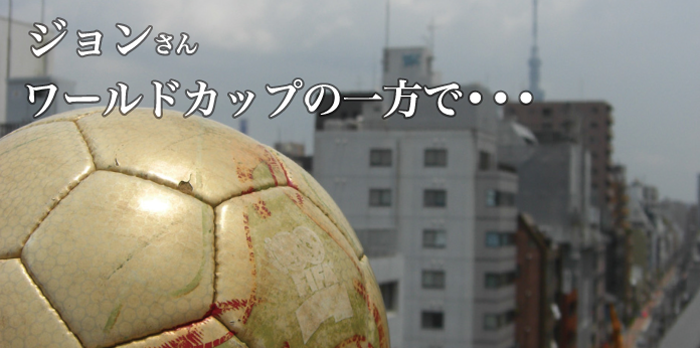 "Kick a pass and score a goal! !!"At that time…
The World Cup from Brazil is watched on TV by a large number of people in Japan who support the team. Many foreigner residents working in Japan also cheer the players on their home country team.
But, for many foreigners resident, life in Japan becomes very difficult when they get sick. There are some young people who have an intense coughing fit while cheering for their World Cup soccer team.
We were consulted by such a case.
For example ("John") suffered intense coughing. 
John gradually became worse, he perspired extensively while sleeping and became severely tired. After a month of suffering he asked his boss for time off work to go to the hospital, and his boss reluctantly agreed. He was afraid to ask his co-workers to interpret for him at the hospital, because he was worried about being fired immediately if it were found that he has a severe medical condition.

He tried to explain his symptoms using his poor Japanese language and gestures. The doctor could not understand what he meant. So he gave John cold medicine, but the medicine did not help his symptoms at all.

here is a growing number of foreigner residents like John who come to Japan to work and help to fill the labor shortage in Japan. They hesitate about going to the hospital when they are sick because if they are found to have a serious disease they may be forced to return to their home country. However, many of those people had to borrow large amount of money to come to Japan to work.

John was worried about his protracted cough, but it was difficult to get holidays to rest. When John thought about his family who he supported financially in his home country, he tried to recover by taking over-the-counter cough medicine. He tried his best to help his family by enduring his cough and other symptoms and continued working in Japan; but ...

A half-year later, he went to hospital for treatment of his breathing trouble and found he had "Tuberculosis". His tuberculosis became worse.
People who cannot speak Japanese well are in a weak position in their jobs, and sometimes that can threaten life.
There is a difference in health care among the foreign resident in Japan and Japanese nationals. This leads to a difference in life expectancy, for example, the death rate for foreign women residents is 1.3 times higher than for Japanese women. (*1)
Japan has a high level of medical technology and equipment, and a medical insurance system that it can be proud of. Internationally, Japan is known as country with a high level of longevity. However, it is not like that for everyone.
We wish to have a society where all can live a healthy life equally.
There are still foreigner residents with trouble like John throughout Japan. Share performs medical consultation by telephone, and offers free health consolation to assist foreign residents in Japan.
For example, in the case of tuberculosis, Share supports the patients by finding medical interpreters through Tokyo. Share supports the patients and interpreters with the explanation in the patient's native language. Knowing that the cost of treatment of their symptoms is inexpensive or free, the patients can relax and be comfortable.

In addition, after leaving hospital it is possible to consult with a public health nurse and to return to one's normal life while continuing to receive treatment.
"I wonder if I can communicate at the hospital." "I wonder if I can discuss my health concerns with my co-workers." " I wonder if there is anyone I can rely on to help me." "I wonder if…"

Share can help. Share stands together to kick a pass for life on the soccer pitch.
We are a multinational team where people from 191 countries gather in Japan.
We work towards a goal of "The health of all people", this is our World Cup.
Share has many activities in Japan and Asian countries, We look forward to for your participation with us.
We hope you can make a "Milky Way summer donation" to Share to help support our activities.