Current Situation
Blog:
Tohoku Pacific Earthquake
DONATE
DONATE via Credit Card Payment
We appreciate your donations!
Donation through this process will solely be used for the earthquake relief efforts in Japan.
DONATE


For credit cards, please refer to the section below. After entering the donation amount (increments of 1,000 yen) you will be lead to another page to complete the transaction.
*SHARE is a government registered NPO licensed to operate in Japan. Donations and other contributions made to SHARE are tax-deductible in Japan.
"SHARE" is accepting donations for the emergency support needed to aggrandize the medical relief effort.
*SHARE is a government registered NPO licensed to operate in Japan. Donations and other contributions made to SHARE are tax-deductible in Japan.
Health and Medical Assistance in Distressed Area
*SHARE implemented Emergency Medical Relief for the Great Hanshin-Awaji Earthquake in 1995, Niigata-Chuetsu Earthquake in 2004 and the Sumatra Earthquake in 2004.
Booklet:
Report on Health Assistance Provided After the Niigata-Chuetsu Earthquake
Teaching Material:
Lecture DVD Vol 4 "What is Emergency Disaster Relief? - What skills do we need for International/Domestic Emergency Disaster Relief - "
Support of set up and management of a local NPO aiming for reconstruction by local community
SHARE is supporting local initiative by assisting an NPO (under application) "Livelihood Support Project K (hereafter referred to as Project K)," set up by local health and welfare workers in the Hashikami district of Kesennuma city.
Project site: Hashikami district, Kesennuma city, Miyagi Prefecture.
Planned activity period: July 2011 to August 2014
Support for set up and management of NPO (under application), Project K.
SHARE launched support for an NPO, "Project K," in July. It was established by local health and welfare workers for the purpose of 1.Providing consultation concerning health and livelihood consultation, and 2. Facilitating community building. Project K targets disaster victims living in both their own homes and temporary housing.

In August, a trailer house was opened under the name of Hashikami Community Plaza. We celebrated opening day with a petting zoo and health counseling service. Many people visited the facility. SHARE continues to assist Project K, mainly at the Hashikami Community Plaza.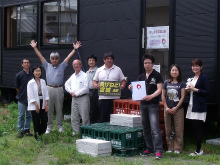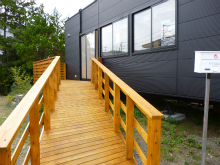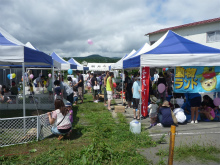 Left):Founding members of Project K at the organization meeting on August 20, 2011.
Center): Hashikami Community Plaza, headquarters of Project K. We added a slope to make it accessible for wheelchairs and strollers.
Right): the petting zoo at Opening Day of Hashikami Community Plaza. Some 500 people, from children to seniors, came to enjoy the event. (August 28, 2011)
(1)Health and Livelihood Consultations
Each day resident SHARE staff members are available for local residents to consult about health and livelihood. The subjects of consultations range from inquiries about the victim support system to requests for assistance. In addition, in early October, SHARE held special counseling sessions to discuss mental health issues. Tea parties are another type of support activity. Local organizations organize them, and SHARE offers health check-ups and counseling. Tea party participants can get weight and blood pressure checks. They are also invited to talk about their experiences and causes of stress in daily life.
(2)Facilitation Community Building
Traditional communities have changed due to the disaster. There are victims who cannot adapt to the new circumstances and those who are seemingly isolated. Since the disaster damage was enormous, support for such victims has been delayed. SHARE is going to find those who are still in need of support and respond to them in cooperation with local key persons. As for temporary housing, SHARE aims to establish a climate favorable for residents to lead secure lives through support of resident association activities. SHARE is also trying to facilitate communication through exchange events at Hashikami Community Plaza and by joining in local rescue and meal-service activities.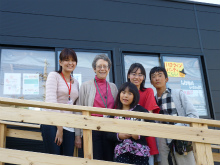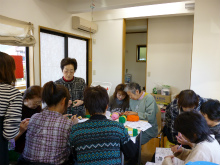 Left):Catherine's English class (October 9, 2011)
Right):Venue for a knitting class, part of a handwork project by RQ Women's Support Center in the disaster area.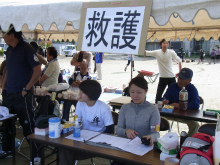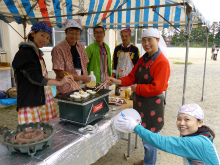 Left): Ozaki, a SHARE staff member, was on first aid duty at Hashikami Sports Day (October 23, 2011)
Right):Disaster prevention training and potato party held by residents associations of both regular and temporary housing communities. SHARE helped with the cooking. (October 30, 2011)
Health Consultations and Visits to Victims at Home, Shelters and Temporary Housing.
SHARE helped set up the Health Consulting Group of Kesennuma Mobile Medical Team, which was formed in Kesennuma city, Miyagi prefecture, and functioned as a health consulting group. We were in charge of health consultations and grasping needs for medical care through visits to victims at home, shelters, and temporary housing. We also supported in-home care activities by coordinating the team's health workers.
(project site) Kesennuma City, Miyagi prefecture.
From March 29 to Sept. 30, 2011.
Total personnel dispatched: 596 perday: 17 doctors, 180 nurses, 145 health workers.
1.Health consultation Group of the Kesennuma Mobile Medical Team
(1)Coordination service for health workers dispatched by prefecture
SHARE took charge of coordinating the health consultation group of Kesennuma Mobile Medical Team. We carried out orientation on making home visits for health workers dispatched by other prefectures. We also organized and shared information with other people by making records and drawing maps for health consultation. At the same time we tied the needs of victims, which were discovered during visits, to local governments, care managers, health offices, and medical institutions. Acted as a bridge between government and dispatched teams, SHARE set up regular meetings for dialogue and shared information.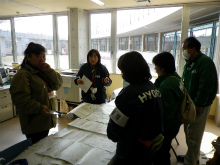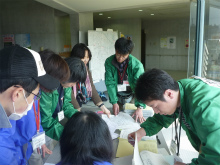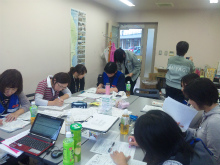 Left):
Shirokawa, coordinator, making arrangements with health workers from Hyogo pref. Since we worked with local medical institutions and supported organizations from other prefectures, liaison and coordination needed to be detailed and complete. (March 30, 2011)
Center):
At a meeting, Mobile Medical Team checked the location of a victim's home. (April 21, 2011)
Right):
Health workers of Miyagi pref. making records of their visits to temporary housing.
(2)Assessing health conditions of and offering health counseling to senior citizens, handicapped, mothers and young children at their homes. (Late March--June1) Visits to temporary housing and small shelters (June 2--Sep.30)
[Cumulative number of households visited as of Sept. 30] Families at home 2157, in small shelters 161, and temporary housing 1265
SHARE also dispatched volunteer nurses with health workers from other prefectures to visit victims at home, focusing on the elderly, handicapped, mothers and young children. In response to a request from Kesennuma City, we visited areas with strong needs, assessing health conditions and offering consultations.
We often found cases of patients with bedsores because their electronic beds had stopped moving due to power failure, those with deteriorating health because they couldn't get medicine for chronic conditions, and a need for mental care due to trauma from the disaster.
We supported health consultations and home care for residents of temporary housing and evacuees in small shelters from which emergency medical support had begun to withdraw in June. We focused on the elderly, mothers and small children, checked their health conditions, and handed the information over to governments and local medical professionals. Some people were unable to go to hospitals because of a lack of access. There were psychological problems, chronic diseases, such as high blood pressure and diabetes, and people in need of nursing care without the money to do so.
At the end of September, We briefed Kesennuma municipality on our activities, handed them over to them, completing the work of the Health Consulting Group of Kesennuma Mobile Medical Team.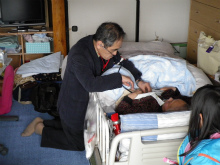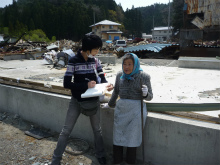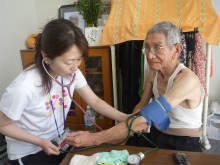 Left):A home visit by Dr. 下の名前Honda (doctor), Director General, SHARE. He visited victims responding to requests of the visiting care station which was unable to continue routine work due to tsunami damage. (April 3,2011)
Center):SHARE volunteer staff conducting health consultations. (April 30, 2011)
Right): Health checks and consultation at temporary housing. (August 9, 2011)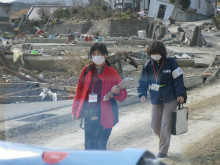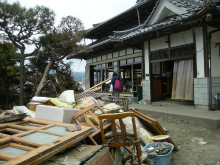 Left): 下の名前Ohki, a SHARE health volunteer, visited and carried for the elderly at home in the Nambu Motoyoshi district of Kesennuma City. While emergency relief support was focused on temporary housing, response to home health needs were delayed. (April 2, 2011)
Right): Home visits to homes of disaster victims. We checked to make sure no one was left behind in evacuations. Houses with damage on the first floor may still have had inhabitants living on the second floor. (May 6, 2011)
(3)Support for well-baby checkups
Local well-baby checkups were cancelled after the disaster, but we were asked by the government to assist in starting them up again. We visited victims to inquire after infants (4 months, one-and-half years, two-and-a-half years, and 3 years) and notify them of well-baby checkups.
2.Providing relief goods
Some families isolated after the disaster were devoid of lifelines, such as electricity. SHARE provided them with lamps that could be recharged by solar energy (solar lanterns). We also sent consumables required for assisted living, and so on.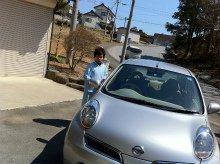 Photo: Vehicle provided by SHARE to a home care support organization. In front of the new car, Matsuoka, a nurse at Minamisanriku Home Care Service Station. (April 5, 2011)
Emergency medical relief
Immediately after the earthquake disaster, SHARE dispatched a medical team to Tohoku Kokusai Clinic in Natori City, Miyagi Prefecture, and supported the management of the clinic, the only one left in the city. SHARE provided relief goods and made investigations, as well as helped with examinations and patient home visits. As neighboring medical institutions started back up, SHARE terminated emergency medical relief activities on the March 28.
[Activity site] Natori City, Miyagi Prefecture
[Activity period] March 1 --March 28, 2011]
[Actual number of dispatched personnel] 54 in total per day: 21 doctors, 18 nurses, 15 coordinators.
1.Dispatching medical personnel and providing medical care
SHARE started support for Tohoku Kokusai Clinic, dispatching doctors and medical processors. Since all neighboring medical institutions were inoperative at the time, the clinic provided round-the-clock examinations following the disaster. In addition to patients requiring urgent care who were transferred in, there were those who developed influenza and acute gastroenteritis, etc. due to the fatigue of evacuation life. In cooperation with other organizations, SHARE provided care at shelters and assisted in organizing daily exercises for occupants and a football tournament for children.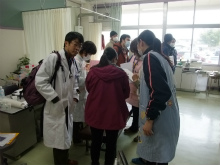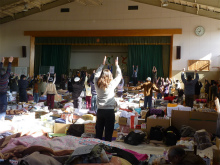 Left):
Volunteer Dr. Oizumi (left) examined patients at Tatekoshi Elementary School where 250 disaster victims were taking shelter. Concerns included the spread of colds, influenza, and a shortage of medicine for chronic illnesses. (March 20, 2011)
Center):
SHARE cooperated with exercise sessions that NPO ROCINANTES organized at a shelter. This was one of the primary health care projects in the shelter, getting everyone to fully stretched their bodies and enjoy physical exercise. (March 27, 2011. Tatekoshi Elementary School)
Right):
Support for evacuated senior citizens. Since there was a shortage of gasoline in addition to a complete lack of public transportation, SHARE took the elderly to and from the medical clinic. (March 24, 2011)
2.Providing medical supply and relief goods.
When we heard that there was shortage of medical supplies, SHARE offered medications and water.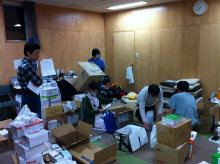 Left) :
Pure water is absolutely necessary to maintain health. SHARE delivered a large amount of water in collaboration with our supporters. (March 20, 2011)
Right) :
Sorting work to appropriately distribute medicine brought from Tokyo to devastated areas. Drugs were for colds, infectious disease and chronic illness. (March 21, 2011)
3.Investigation activities
SHARE visited shelters and medical institutions along the Miyagi prefecture coastline which was massively damaged by tsunami. SHARE conducted surveys of medical needs and damage, and provided relief goods accordingly.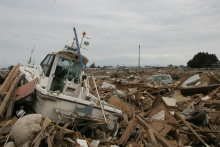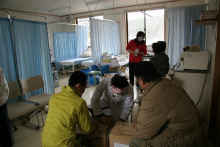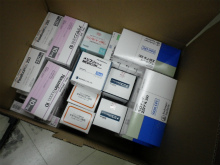 Left) :Debris, vehicles and ships carried by tsunami piled up on the road. Roads near the seacoast were completely impassable. (Mar.22, 2011)
Center) : Medical supplies for a small clinic in Minamisanriku Utatsu. The tiny waiting room was packed with patients. It was more difficult for small clinics like this to get support than large shelters. (March 22, 2011)
Right) :Medicines and drugs for cold, infection and chronic illness brought from Tokyo. (March 24, 2011)
Record of Main Activities (as of Sep. 30, 2011)
◆Supported set up & management of local NPO - Kesennuma city, Miyagi prefecture.
Date
Main SHARE activities
July 23
Installed a trailer house in Hashikami district.
Aug.20
Established "Livelihood Support Project K" formed by local people.
Along with supporting set up of Project K, SHARE started health and life support activities in corporation with "Project K"
Aug.28
Project K opened trailer house as "Hashikami Community Plaza."
Through various events focusing on problems in daily lives of disaster victims in Hashikami district, SHARE aimed to activate communication activities in the community.
◆Visit /Health Consultations with victims at home, shelters and temporary housing- Kesennuma city, Miyagi prefecture.
Date
Main SHARE activities
March 28
Advance party left for Kesennuma city, Miyagi prefecture.
Mar. 29
Advance party started activities.
Mar. 30
Started health care support activities.
Started dispatching volunteer nurses/coordinators.
Mar.31
Joined "Health Consulting Group of "Kesennuma Mobile Medical Team."
Started health consultations during itinerary visits to the elderly, disabled, and mothers & children (until Jun.1).
Acted as coordinator of health consulting group.
April 26
Started visiting health consultations and inquiring after mothers and child ren to support for well-baby check-up continuation (until Jun.10).
May 3
Dispatched long-term residential project coordinator.
May 31
Started itinerary health consultation at small shelter.
June 2
Started itinerary health consultation at temporary housing
Sep. 29
Dissolution of "Kesennuma Mobile Medical Team"
Sep. 30
Handed over health consultation service to Kesennuma city government. SHARE terminated visits/health consultations as a Health Consulting Group of "Kesennuma Mobile Medical Team."
◆Emergency relief support, Natori city, Miyagi prefecture.
| Date | Main SHARE activities |
| --- | --- |
| March 11 | East Japan Great Earthquake |
| March 18 | The first support team including medical personnel arrived at Tohoku Kokusai Clinic and started medical care. |
| March 20 | In corporation with other organizations, SHARE started itinerary medical care in shelters. |
| March 22 | Accompanied by other organizations, SHARE sent movable care to Rikuzen Takada. |
| March 28 | Due to a decrease in medical care needs at clinics and sufficient medical personnel, SHARE terminated emergency relief activities. |
*Agencies mentioned above are those who/which provided supply, joined activity as volunteer and donated more than 500 thousand yen (as of end of October). We apologize that we can not report all the supporters, but we would like to say thank you very much for all the supporters.