AIDS Campaigns Organized by Volunteers
At village events and on World AIDS Day when many people gather, local authorities lend a hand to anti-AIDS campaigns by cooperating with AIDS volunteer groups, HIV-positive support groups, MSM groups, and Lao migrant workers working in Karaoke bars. Some walked about the village holding banners with handwritten messages about AIDS, some distributed condoms to prevent HIV infection, and others took part in school and other events to appeal to people about the importance of HIV prevention and lessening discriminations against AIDS.
>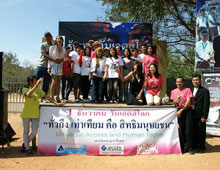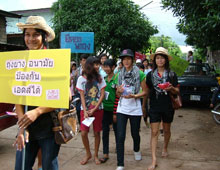 Photo (left): Staff and volunteers participate in AIDS Day event. At the World AIDS Day event held in Khemarat, the staff and community members sent out messages about AIDS prevention. Photo (right): Anti-AIDS Campaign parade; condoms were distributed in the villages.