One Health Center Building Equals Health for Ten Thousand People!
In the areas with chronic shortages of medical professionals and inadequate health facilities, improving the Health Center is essential for better health and medical services. In Svay Antor Operational District, where SHARE is carrying out its activities, there are 17 Health Centers for a population of 210,000. At the start of our activities, there were only 11 Health Centers with adequate buildings. In the remaining six districts, the Health Center staff has to offer medical care from their homes. For Health Centers with no buildings, the health requirements set out by the Health Ministry are not mandatory, and thus only limited material supplies, drugs, and human resources are available. Although SHARE does not limit its support to construction of health centers (supply of materials and equipment only), we are active in six areas without Health Center buildings. We believe that a health center that is in a physical building is essential as a place where health professionals can work. In the district where health conditions are most inferior, we supported the building of one Health Center building (Samrong Health Center) as well as the training of human resources. By giving advice for drafting application papers, we supported the District Health Service Bureau, our counterpart, in requesting donors to support the construction of another health center in 2008. At the end of 2010, Tulk Thla Health Center, the second building, will be completed.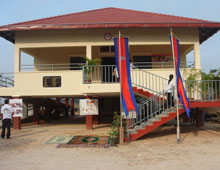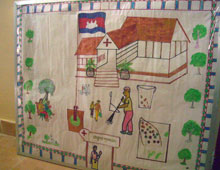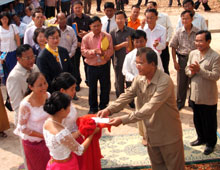 Photo (left) Samrong Health Center, the construction of which was supported by SHARE in 2008.
Photo (center) Drawing of an ideal health center drawn by the community at the time of construction.
Photo (right) Opening Ceremony of Samrong Health Center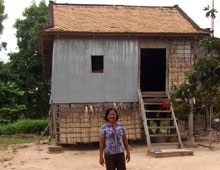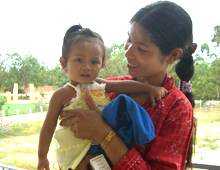 Photo (left) Health Center without building. Medical examination is carried out at the home of a Health Center staff member
Photo (right) Mother and child visiting the Health Center