Village Health To Be Promoted by Villagers
Based on the principle that people themselves should preserve primary health care should be preserved by people themselves, SHARE has endeavored to train people to protect health in the district. Currently, we are training people called "Health Volunteers" who will foster better communication between the district health centers and the people of the community under the system introduced by the Ministry of Health in 2002.
Our objective is to train the health volunteers selected from among inhabitants so that they may convey to villagers health service information regarding immunizations and prenatal health screenings offered by health centers, and spread knowledge about disease prevention through health education.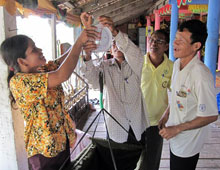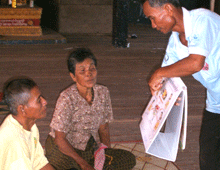 Photo (left): Practice in body weight measurement
Photo (center): Training of Health Volunteers. Their understanding is assessed by flagging.
Photo (right): Health Volunteers learning about health education.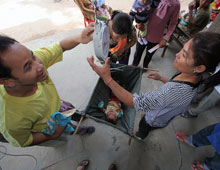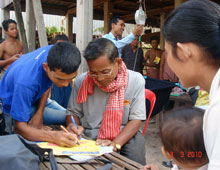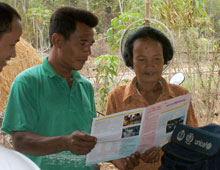 Photo (left): Health Volunteers working for health examinations at a Health Center
Photo (center): Body weight is noted in children's health record, or Yellow Card.
Photo (right): Health Volunteers reading about their activities, which were reported in a newsletter (in Khmer) published twice a year.